Welcome to Absolutely Edible Cakes, home of the Sweet Potato Thang! We take pride in creating cakes that will please not only your sense of sight, but also your sense of taste! We have established a bakery that is fully focused on meeting and exceeding your every expectation.
Having pleased the most exacting of clients, we are sure to delight you with our great service and delicious products! We trust that one look and taste of our Absolutely Edible Cakes will entice you to come back for all your celebration events! Make sure to check on our catering services, as we have a unique way of pricing which gives you a greater value for your money than traditionally priced catering!
We personalize every cake, so therefore, our cake gallery isn't so much something to order from directly, as it is to just give you an idea of what others have requested. At Absolutely Edible Cakes, our highest goal is to make your special occasion one that will be remembered for its good taste! We specialize in baking to your custom specification and along with a delectable cake, you will receive a true work of art, as we are cake designers, not just bakers.
Nikki J.
Celebrity Cake Designer
"How did you do that?" is the most often question asked when someone sees my work, "Is I edible?" "Absolutely," I answer. "it is Absolutely Edible".
I am Nikita Jackson, better known as "Nikki J." creator and owner of Absolutely Edible Cakes and Catering. I feel that I have been truly gifted by God to be able to create cakes that not only look great, but taste just as delicious, guaranteed. If you can imagine and crave it, I can achieve it, in cake flavor that is! Plus, the flavors are endless!
At Absolutely Edible Cakes & Catering "Home of The Sweet Potato Thang", our highest goal is to make your special occasion one that will be remembered for its beauty and deliciousness. We specialize in baking to your custom specifications and along with a delectable cake you will receive a true work of art, as we are Cake Designers, not just bakers.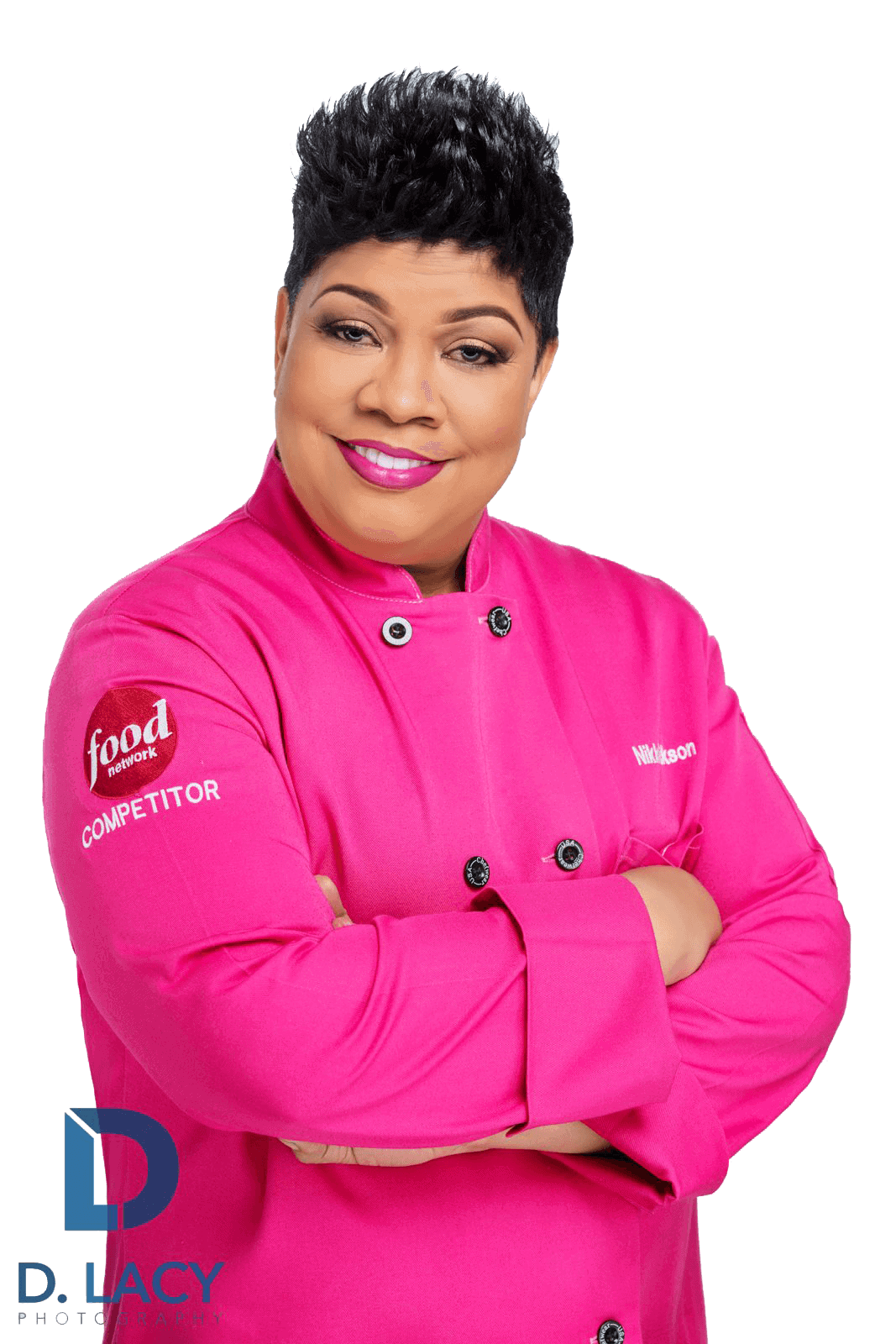 Not only do we design cakes, but we also cater! We can accommodate events anywhere from 8 to 3000 or more, and anything from breakfast to full dinner buffets with so many options for dessert, including your beautiful cake.
I have been creating my cake art since 1982, as a Junior at Fairley High School in Memphis, TN. That was the year I saw my first cake magazine and received inspiration from my home economics teacher, Mr. McDuffi. I am self-trained and have been privileged to have cakes featured on Good Morning Texas and Walker Texas Ranger as well as on billboards throughout the State of Texas for the Texas Lottery Commission. I've also competed on Food Network's Last Cake Standing and enjoyed appearing on TLC, Good Day Dallas as well as many other local channels.
I focus on making everything on the cake edible, or should I say Absolutely Edible! I take great pride in doing so. I come up with ideas and design by actively listening to my customers. I like to get inside their heads, tap into their minds and dreams, and help make those dreams come true. I strive to make every cake very special and personal for them.
Many of my cakes have been for celebrities or have even become celebrities of their own. To name a few, I have done cakes for Rickey Smiley, Nanette Lee, Vivica A Fox, Hope Flood and several of the Dallas Cowboys and the Cowboy's Cheerleaders. My recent fame includes my "Life Size Bride Cake". It has been featured on CNN News, Inside Addition, In Touch Weekly, Montel Williams, The Daily Mail, the Metro in the UK and many more.
Another of my infamous creations isn't a cake at all, it is my "Sweet Potato Thang". It is a modern twist on the sweet potato pie. The creamy sweet potato filling is so velvety and smooth which sits on top of its mouthwatering graham cracker crust. The blend of the silky textures with just a hint of pure vanilla keeps you wanting more and more. Over the years it has become a Thanksgiving Day staple which we are shipping all over the country.
Although I have some famous clients it is my goal to make all my clients feel like famous celebrity themselves. When ask what my specialty is I can honestly say, "Your order." When asked how it did it, I simply reply, "It was a piece of cake!"